Hardware
Each component is carefully sourced from the industry's best manufacturers to provide superior server and network performance with best-in-class security, reliability and fault-tolerance.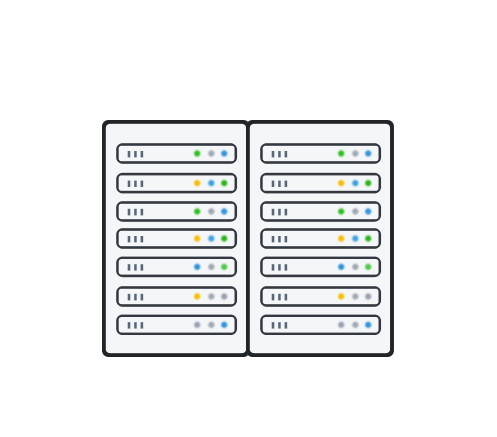 Our Hardware
At Boom Host we strive to offer the most reliable hosting platform with superior server and network performance at all times.
Our servers are powered by the latest generation of brand-new Dell® server hardware, which includes 24×7 on-site warranty support and a 4-hour parts replacement SLA offered by the vendor.  We own and manage all of our hardware in-house. To mitigate against any potential downtime due to hardware failure, we keep spares of all critical hardware components readily available within the data center at all times.  One or more fully functional spare servers (with hardware configurations identical to production servers) are also kept on stand-by.
We have carefully designed and engineered our core IT infrastructure to optimize performance and minimize any downtime that may occur due to a single point of hardware failure.  All key hardware and networking components are designed to run in a redundant configuration. Our hardware firewall devices are configured to work in HA mode, network switches are stacked, and dual power supplies are installed on all the servers.  Redundancy is built-in all the way down to the server hardware level where each server's multiple NIC ports are 'teamed' for failover and load-balancing purposes.  Hardware based RAID10 is also utilized for local storage to increase data redundancy and reliability.
Our web hosting servers run Intel® powered Data Center series Solid State Drives (SSDs) in a hardware RAID 10 configuration delivering a high data transfer rate with maximum endurance.  Similarly, all of our hosted email and off-site data storage solutions run in a similar RAID 10 setup using enterprise grade SAS drives with data-at-rest encryption.
Rest assured that your data will be safely stored on enterprise-class hardware for the maximum performance and reliability it deserves.
Web Server Specifications
DDR4 RAM with advanced ECC
Intel® powered Data Center grade Sold State Drives (SSDs) in a hardware RAID 10 array
2 x 1Gbps redundant server uplink connections to multiple upstream Tier 1 Canadian ISPs
Dual power supplies connected to A+B power PDUs
Hardware Firewall as the first layer of protection; Config Server Firewall (CSF) also installed on all web servers
SpamExperts® anti-spam email filtering provided for all incoming and outgoing emails on cPanel hosted domains
Softaculous script installer
Off-server backups are performed to RAID 10 protected storage through secured file transfer methods
Dell® servers backed by a mission critical vendor Service Level Agreement consisting of 24x7 on-site service and a 4-hour parts replacement guarantee
Stand-by spare server hardware with identical configurations as the productions servers; Other critical spare parts are also kept on-site
All servers are logically behind state-of-the-art dedicated hardware firewall devices configured to work in High Availability (HA) mode.
Multiple Layer 3 switches are configured in a stack for additional network redundancy and load balancing among each server's uplink connections.